13 Community Care Community in South Sulawesi
| category News
|
No Comments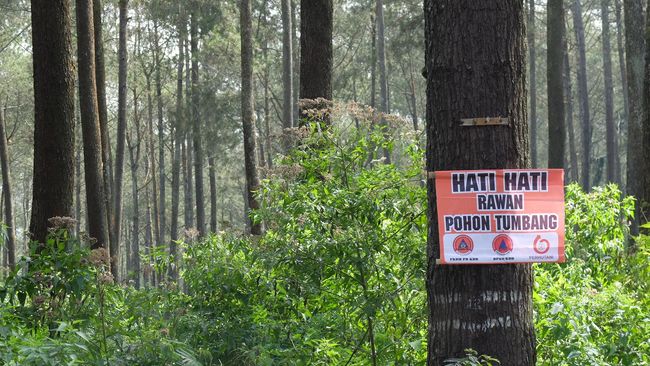 [/ caption]
The development of climate change issues today is bringing increasing concern for the world's population day by day. Real action is clearly an urgent thing to do. In Indonesia, we know that there are a lot of non-governmental organizations (NGOs) and communities that care about environmental issues. In our city, Makassar, we can find movements of people who belong to communities in reducing the impact of climate change. The movements are:
1. Makassar Gardening
[caption id = "attachment_251650" align = "aligncenter" width = "300" caption = "Logo Makassar Gardening, dock: makassarberkebun.org"]

This community is able to create green land in the middle of Makassar city which also provides benefits for the surrounding community. As for their activities such as growing vegetables and fruits, gardening and harvesting with friends and family. This is able to reduce gas emissions, especially carbon dioxide gas where these plants will absorb the gas.
More info at https://makassarberkebun.org/
2. Mangrove Action Project-Indonesia

This non-profit organization focuses on the conservation of mangrove areas by using an integrated approach to upstream-downstream watershed conservation through educational activities, community development, sustainable alternative livelihood development, mangrove rehabilitation and community-based natural resources management.
3. Community Bike Mamminasata

Although this club is a bike lovers one of them is but this community is able to provide inspiration in popularizing the use of bicycles in order to curb gas pollution where vehicle pollution is also one contributor to the occurrence of global warming, energy efficiency occurs, to a more humanist city and improve health status.
4. Green Indonesia Youth Coalition (KOPHI) Regional South Sulawesi

The organization is able to encourage youth to love their environment, educate the young generation to be sensitive and care about environmental issues in Indonesia, to become a forum and facilitator for the young generation of Indonesia who has a concern for the environment and is able to create a real and sustainable national green movement.
More info at https://kophisulsel.wordpress.com/
5. Maritime Conservation Unit of Hasanuddin University

This organization consists of students of Engineering Faculty of Hasanuddin University where its activities are not only based on maritime but environmental issues are not spared from their attention such as coral reef conservation and tree planting.
6. Forum for the Environment (WALHI) of South Sulawesi
WALHI was established as a reaction and concern over injustice in the management of natural resources and life sources, as a result of the paradigm and process of development that is impartial of sustainability and justice. WALHI is a civil society group consisting of non-governmental organizations (NGOs / NGOs), Nature Lovers Group (KPA) and Self-Help Groups (KSM).
Environmental Education Center (PPLH) Puntundo
PPLH is a non-governmental organization engaged in the field of Non Formal Environmental Education, legally under the auspices of Puntondo Environmental Education Foundation (YPLHP). The formation of PPLH in South Sulawesi is motivated by a sense of concern for environmental damage that occurs so fast and its existence is not apart from community participation and support, NGOs, Universities, schools, governments and individuals.
More info at https://pplhpuntondo.org/
8. Denassa Green House
The Denassa Green House (RHD) is the home of the Denassa family. Built in 2007 on an area of ??one ha. In addition to RHD's residence is also converted into tempoat conservation of plants, animals, pilot plant family investment, and place of learning together. RHD is equipped with Denassa Library, biogas, Wifi, and open space for various activities.
More info at rumahhijaudenassa.blogspot.com9. Active Society Institute (AcSI) Makassar
Active Society Institute or abbreviated as AcSI is an non-profit, independent and non-partisan organization based in the region of Sulawesi with a focus on rural work and spaces where people can participate in influencing policies, discourses and decisions that affect them (community).
The background of the establishment of AcSI is to engage actively in facilitating and contributing to a better social change, taking into account the awareness and knowledge of society as well as the dimensions of power in the social dynamics. These three aspects then become the joints of building an active society.
More info read on acsimakassar.org
10 Trees Life
Trees life is an environmental community that specifically moves to green the earth by planting trees and nourish the inhabitants of the earth by providing a green environment so that the inhabitants of the earth live with fresh, fresh breaths of oxygen
More info about this community can be found on Facebook Trees Life11. Hilo Green Community Makassar
Hilo Green Community Makassar consists of young people who care about the environment of Makassar City. They invite youths throughout Makassar to contribute to their environment such as cleaning up garbage in public places and environmental socialization to schools.
Info about this community can be found at https://hilomks.blogspot.com
12.Journal Celebes
JURnal Celebes is an abbreviation of the Network of Environmental Journalists Advocating Celebes. This institute was formed on July 5, 2000 in Makassar, South Sulawesi, consisting of journalists and non-governmental organizations (NGO) activists. The purpose of this organization is to concentrate on the conservation of the environment and natural resources and media development. The institute is formed as an independent forum that encourages capacity building of media journalists, in the investigation, advocacy and campaign of natural resource management with justice and community empowerment civil
More info read at https://jurnal-celebes.blogspot.com
13. Buddy Bumi Makassar
Buddy Bumi Makassar is a network of Community Buddy Earth scattered in several areas in Indonesia, under the direction and support of the Pertamina Foundation. Its mission is to realize the balance of life together between nature And man. For more info about this community please visit
Website: sobimakassar.blogspot.com Facebook: Friend of the Earth Facebook
Twitter: sobatbumi_mks
The existence of community / institutions above proves that the people of South Sulawesi have a concern and contribute in preserving the surrounding environment. Therefore, we support and contribute to this community in order to realize the condition of a beautiful and comfortable environment.
Sincerest greetings from students of Hasanuddin University / KOPHI member of South Sulawesi, Heriyanto Rantelino
Facebook: Heriyanto Rantelino Twitter: @Ryan_Nebula No Contact: 085242441580