Overcome Jakarta Flood, Not Just Ditch
| category News
|
No Comments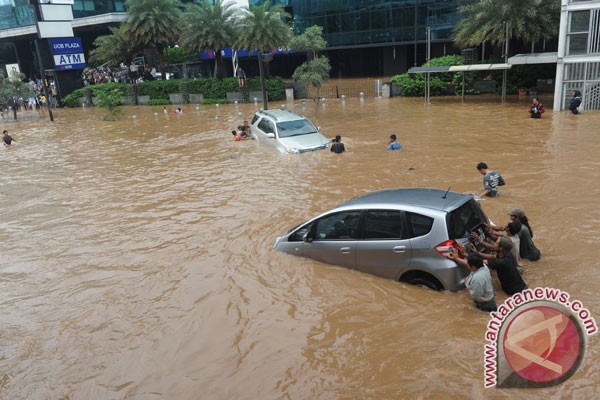 JAKARTA, KOMPAS.com – To prevent flooding, the Provincial Government of DKI Jakarta is not enough just to build a giant dike or known as the Giant Sea Wall. The government must also consolidate massively upstream and central Ciliwung River Basin (DAS) in Bogor and Cianjur regencies, West Java.
High water runoff due to high rainfall in the two districts, especially in Puncak II Gunung Gede Pangrango in Bogor and Cianjur, can no longer be absorbed thoroughly into the soil due to the critical amount of land in the region. Because, the runoff of billions of cubic rainwater directly inundate Ciliwung and Cisadane Rivers, which will not be accommodated, including by the Giant Levee on the north coast of Java Sea.
The facts about the bad condition of Ciliwung is one of the results obtained from the expedition conducted by Paguyuban Budiasih with Bogor Agricultural University (IPB) recently.
One of the founders of Paguyuban Budiasih Foundation, Doni Monardo, said on Sunday (23/11), said rain water would no longer be able to enter the ground. In addition to a lot of critical land, many forest functions become plantations. It was revealed very clearly from the expedition with the theme of the Inventory of Potential of Green Land in the Ciliwung Hulu-Tengah Sub-watershed.
Take a look at the Puncak II Gede-Pangrango ridge, most of the forest is already open. There is a field covered with a tarpaulin under it, while on top it is given plastic so rainwater can not enter the ground. The runoff flows down into a flood that enters the river. Sodetan Ciliwung and the Giant Levee obviously will not be able to accommodate. Therefore, the upstream and middle areas of this Ciliwung watershed should be re-greened soon, he said.
Previously, Doni, a TNI officer with the rank of Major General, showed photographs after the launch of 1.5 million plant seeds and 20,000 seedlings of rare plants in Kadungmanggu Village, Babakan Madang Subdistrict, Bogor, West Java.
According to Doni, anyone can prove themselves damaged Ciliwung riverbank area. "Just take the area from Sentul to Megamendung and Puncak II Gede-Pangrango, there will be no big trees that once protected the land," he said.
In the event attended by former Minister of Environment (LH) Erna Witoelar, Professor of Faculty of Economics UI Sri Edi Swasono, Director General of BPDAS-PP Ministry of Environment and Forestry Hilman Nugroho, Chairman of Budiasi Lt Col Society (Arm) Rio Firdianto, and BNI representative Doni stated that they are ready to assist Jakarta Governor Basuki Tjahaja Purnama to green the banks of Ciliwung and Cisadane and other areas.
Pak Basuki promised to overcome the flood in Jakarta. Therefore, we are ready to work on greening upstream and river banks, he said.
Free
On that occasion, Doni Monardo, who is also Commander-in-Chief of the TNI Special Forces Command, released 54 trucks carrying around 130,000 tree seedlings to be distributed to several areas in West Java, Banten and Bali.The number of trees released is part of the 1.5 million seeds of sowing trees sown around 12 hectares of land owned by businessman Ketut Masagung. Noted there are 107 species of trees that are seeded and seeded, including rare tree species.
So far, the distribution of greening tree seedlings has been done four times since the association was established in 2010. According to Rio, communities and institutions can request existing tree seedlings. Seeds will be given free of charge. The requirement is only a letter of application and the ability to plant for a year, as well as clarity of the location of the planting plan.