Riau Governor Rusli Zainal Suspected Corruption PON
| category News
|
No Comments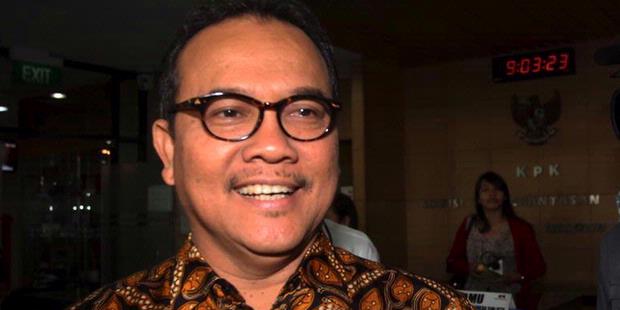 JAKARTA, KOMPAS.com Corruption Eradication Commission (KPK) set Riau Governor Rusli Zainal as a suspect alleged bribery case Revision of Regional Regulation (Perda) Number 6 of 2010 on the Addition of PON Riau Shooting Points. KPK ensnare Rusli with Article 12 letter a or b or Article 5 Paragraph 2 or Article 11 of Corruption Eradication Act juncto Article 55 Paragraph 1 of the Criminal Code 1. The announcement of Rusli's status was presented at a press conference on Friday (8/2/2013) afternoon, at KPK Building, Kuningan, South Jakarta.
"Since February 8, 2013, KPK investigators have found two sufficient evidences, which then concluded in connection with the alleged act of corruption in connection with the discussion of the law in Riau Province.At the suspect on behalf of RZ, concerned is the Governor of Riau, "KPK spokesman Johan Budi said.
Last Friday, the KPK has already done a case title. The result, found two evidences showing the involvement of Rusli in the case of alleged bribery Revision of Regional Regulation (Perda) No. 6 of 2010 on the Addition of PON Riau Shooting Costs and cases of alleged forest corruption Pelalawan Riau.
KPK Chairman Abraham Samad, Tuesday (05/03/2013), reveals, the status of Rusli just waiting for sprindik. "There is no warrant for the commencement of investigation (sprindik) for RZ (Rusli Zainal), but it has been exposed and has been raised to the investigation, just waiting for sprindik out.RZ cases of Pelalawan and PON cases," he said.
Name of Rusli often called involved in alleged bribery case of Local Regulation Number 6 Year 2010 about Addition of PON Riau Shooting Cost.
The KPK prosecutor's indictment mentions Rusli as allegedly bribing members of the Riau Regional House of Representatives related to the discussion on the revision of the regional regulation. Rusli called to instruct the Head of Youth and Sports Agency at the time, Lukman Abbas, to meet the demand for money tired members of parliament.
So far, some DPRD members who have accepted bribes have been convicted and sentenced. Likewise, officials of the Riau Youth and Sports Office and private parties are considered proven as a bribe giver.
Rusli is also said to be involved in a case of alleged forest corruption in Pelalawan, Riau. KPK also developed an investigation into alleged bribery cases Perda PON by investigating the procurement process Main Stadium PON.
In addition, the KPK opened a new investigation related to forestry corruption cases that ensnare former Pelalawan Regent, Tengku Azmun Jafar, and former Siak Regent Arwin AS. Related investigation of these two cases, Rusli once questioned.
Related news can be followed in the topic:
Alleged Corruption PON Riau